RedSeal Packer: Byford Dolphin April Update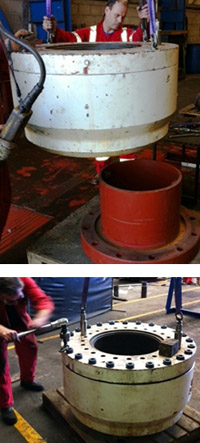 April 2011
The RedSeal Packer Housing designed for the Byford Dolphin has been redressed with a new RedSeal Packer and is currently in storage awaiting fitment to the Byford Dolphin telescopic joint. The RedSeal Packer was replaced after successful completion of the API 16F test programme in January 2011.
The Byford Dolphin is scheduled to pull its riser and BOP end of May 2011 with the (currently deployed) telescopic joint being shipped onshore to be fitted with the RedSeal Packer housing. It is planned that the re-dressed telescopic joint will not be utilised on the upcoming well (starting early June 2011) but on the preceding well, thus allowing Dolphin Drilling to implement the required control system modifications (ROMAR PMS Panel upgrade) for the RedSeal Packer. It is planned for the RedSeal Packer System to be installed as a third packer unit (fitted above the existing Dual Packer System).
Please see RedSeal Packer for further details.
For more information see our News and Events section.