Congratulations to Dolphin Drilling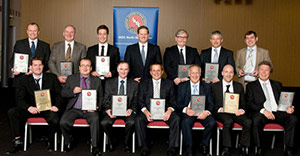 June 2012
RedSeal would like to pass on their congratulations to Dolphin Drilling for their recent Environmental and Safety awards presented at the recent IADC North Sea Chapter 2012 Annual Safety Awards. In striving to work towards their goal of 'No Spills to Sea or Ground Water' Dolphin have incorporated the RedSeal Packer System to the Byford Dolphin along with significant improvements to over-side work and manual intervention.
When asked about the performance of the RedSeal Packer System, Andy Bain Operations Manager (UK) for Dolphin Drilling stated,
...to date, the RedSeal packer system has exceeded expectations with no instances of packer failure and is proving to be far superior to existing Packer Systems utilised on our other Dolphin installations.
For more information see our News and Events section.