Conventional Drilling Riser System Telescopic Joint (two-barrel)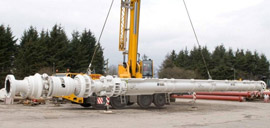 RedSeal Ltd can offer clients a full drilling riser telescopic joint design, manufacture and supply service incorporating the RedSeal Packer system and associated controls. Telescopic joints can be offered with a range of features to reduce manual intervention and over-side operations including:
Inner to Outer Barrel Hydraulic Latch Mechanism
Choke, Kill and Auxiliary Line Gooseneck Assemblies
Choke, Kill and Auxiliary Line Remote Pull-In Systems
Please select an image below to view a larger version.
Telescopic Joints will be manufactured with choke, kill and auxiliary lines to match that of the rigs drilling master system. Existing riser tensioner system interfaces can be facilitated and maintained.
Also See
Please also see our Services.