RedSeal Packer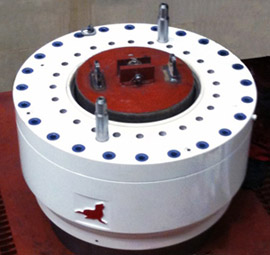 Description
The innovative RedSeal Packer provides a low pressure seal (500psi) for the dynamic drilling riser telescopic joint used on drillships and semi-submersible drilling systems.
The RedSeal Packer system improves seal life duration whilst precisely indicating packer seal wear.
The system provides the facility to replenish the wearing seals without requiring the removal and refitting of the packer housing from the telescopic joint.
RedSeal Packer - Continuous Integrity - Continuous Operations
The RedSeal Packer has evolved into an innovative solution to an industry recognized operational problem encountered in all floating drilling vessels drilling riser telescopic joints. The RedSeal Packer allows for continuous monitoring of seal wear, thereby allowing for greater seal management and facilitates seal refill /replenishment without the need to retrieve the telescopic joint from the riser string (stopping drilling operations) and subsequently strip down and rebuild.
The system has been developed with the design philosophy to maximize seal life and to provide the drilling contractor the means to self manage the packer condition and plan for system refill /replenishment, significantly reducing the risk of unplanned operational down time and potential environmental incidents. The refill/replenishment sequence is conducted using the RedSeal Packer Refill Piston in an either online or offline situation but in either scenario, crucially saves on back-loading the telescopic joint to shore for strip down and packer replacement, saving both considerable time and money.
The RedSeal Packer system has been designed to allow for installation on all current existing and new build telescopic joint systems currently offered in the market place. RedSeal Ltd can also offer the client a full new build telescopic joint incorporating the RedSeal Packer system.
Please select an image below to view a larger version.
RedSeal Packer can be supplied with a dedicated control system to monitor seal actuating pressure and (upon actuating pressure loss to primary seal element) switch automatically to the secondary seal, thereby minimizing any environmental impact.
For further information please see our Products and Services section.
Also See
Please also see our Products.